Security Alarms
Alarms System
An alarm system primarily is designed to protect your home or business and/or it occupants from possible undesirable circumstances. The complexity and design of an alarm system varies greatly and needs to be tailored to each and every installation to offer you the highest level of security and peace of mind.
There is nothing better than driving into your driveway and knowing that when you open your front door everything is the way you left it.
Siemax Electrical & Security can design your alarm with your lifestyle or business in mind.
Alarms are now an integrated part of automated homes and offer a level of control beyond belief. Lighting, Sound, Climate Control and more can all be controlled from an alarm system, triggering scenarios from motion, time, occupancy or any number of events.
We use and recommend S.A. Security monitoring for monitoring our alarms. A well respected local company monitoring a professionally installed alarm system is the ultimate protection for your home or business.
Monitoring fees start from $5.50inc GST per week.
Siemax Electrical & Security offer a no obligation inspection of all domestic and commercial alarm systems and in some cases can setup your monitoring free of charge.
License Number – ISL245332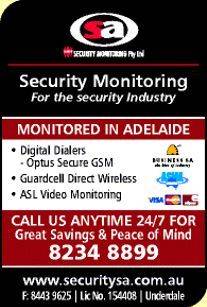 Thank you for the prompt service we received for our air-conditioner repairs. We searched for an Adelaide Electrician and you were the only company to return our call and the service was excellent.  Thank you.

Thanks so much for wiring my office with the right fibre to take advantage of our internet speed.  Was great.  You were in an out and no one even knew you were there.

You are amazing.  Our electrical engineers on site love when you come to assist on fault finding.  We know we can always rely on you to work well with our team and get the solution we all need.  It also helps that you get here in record time when things go pear shaped.  I really appreciate your services.

Thank you so much for coming out in the pouring rain to fix our reverse cycle.  It was so miserable I almost regretted calling you but your boys were fantastic and didn't complain once despite the cold.  It was also very nice that they were able to fix things so quickly.  Thank you so much.

We have been using you guys for years to provide alarm monitoring service and you have been fantastic.  I appreciate your call out time and I know we are in good hands.

It took me ages to try to understand what I thought I needed and it took you 2 hours to walk me through and explain what would suit my needs AND my house best.  I trust you guys and appreciate all you have done.