Safety Switch Installation
Siemax Electrical can carry out your safety switch installation. Residual current devices (commonly referred to as safety switches or RCD's or a RCD Safety Switch) are now compulsory to be installed in all new homes or whenever additional power points are installed in existing homes.
WHAT ARE SAFETY SWITCHES?
A safety switch is an electrical device installed in your switchboard designed to interrupt the power should a single fault occur. A safety switch installation is designed to protect your life by turning of the power to a circuit should you come into contact with live wires or live appliance parts.
HOW DO SAFETY SWITCHES WORK?
The safety switch works by monitoring the flow of electrical current on the neutral wire. Current flowing to an appliance returns on the neutral wire. If this electrical circuit is compromised the safety switch will turn off the power within 30 milliseconds. A person touching live wires or live parts of an appliance will provide the electrical current with a path to earth therefore causing a imbalance in return current on the neutral wire. This is detected by the safety switch and will operate very quickly if the imbalance is greater than its rated trip current. Typically 30 milliamps (30mA). This will greatly reduce the risk of heart problems caused by electrical currents entering the body.
WHAT DOES A SAFETY SWITCH LOOK LIKE?
Below are some examples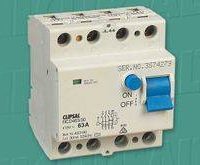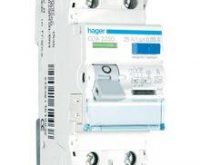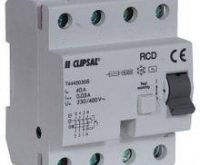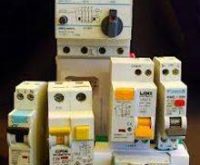 WHAT DOES A SAFETY SWITCH LOOK LIKE?
The easiest way to identify if you've had a safety switch installation is to look in your switchboard. Look for a device that has a switch and a button marked "TEST". This device will either be installed in your meter box outside or in a sub-board located elsewhere inside your house.
Some common labels may include – ELCB, Earth leakage circuit breaker, RCD, Residual current device, Safety Switch or RCD Safety Switch.
Some images of safety switches are on the right hand column of this page.
WHAT IS THE DIFFERENCE BETWEEN A SAFETY SWITCH AND A CIRCUIT BREAKER?
A circuit breaker is designed to protect the cabling and appliances from overload should an overload condition occur.
A safety switch is designed to protect a person from death or injuries sustained from an electric shock. A circuit breaker will rarely trip off if a person receives a shock.
IF I HAVE A SAFETY SWITCH IN MY HOME AM I PROTECTED FROM ELECTRIC SHOCKS?
The level of protection a safety switch will provide depends on how it has been installed in your home and on what circuits. Generally older installations were installed on only the power points. Some older installations also had one safety switch protecting the whole house. Newer homes should have at least two safety switches and they should protect all your lights and power circuits throughout your house.
If you happen to come into contact with live parts of an appliance on a protected circuit, you will still receive an electric shock but the safety switch should interrept the power before serious injury or death occurs. A safety switch is not a substitute for commonsense and always treat electricity with caution and care.
HOW CAN I TEST MY SAFETY SWITCH?
The easiest method for testing the operation of your safety switch is to press the test button. This will trip the safety switch. You can now check inside your house to see what has lost power. This will give you an idea of how many circuits are protected. Any power circuits or lights that still have power are NOT protected.
This is only a basic test of correct operation. A more thorough test can be performed by Siemax to determine if your safety switch installation is operating at the correct fault current and performing within the correct time in milliseconds.
WHAT IF MY SAFETY SWITCH WILL NOT RESET? DO I HAVE AN RCD FAULT?
If your safety switch has tripped and will not reset there is either a fault within your homes wiring or a faulty appliance has been plugged into a protected power point.
The reasons this can occur are wide and varied and can sometimes be very difficult to find.
There is a procedure for you to follow that may isolate the problem so power can be restored with out the need for an electrician.
We have provided an easy to follow guide or call 0418109222 for advice
Thank you for the prompt service we received for our air-conditioner repairs. We searched for an Adelaide Electrician and you were the only company to return our call and the service was excellent.  Thank you.

Thanks so much for wiring my office with the right fibre to take advantage of our internet speed.  Was great.  You were in an out and no one even knew you were there.

You are amazing.  Our electrical engineers on site love when you come to assist on fault finding.  We know we can always rely on you to work well with our team and get the solution we all need.  It also helps that you get here in record time when things go pear shaped.  I really appreciate your services.

Thank you so much for coming out in the pouring rain to fix our reverse cycle.  It was so miserable I almost regretted calling you but your boys were fantastic and didn't complain once despite the cold.  It was also very nice that they were able to fix things so quickly.  Thank you so much.

We have been using you guys for years to provide alarm monitoring service and you have been fantastic.  I appreciate your call out time and I know we are in good hands.

It took me ages to try to understand what I thought I needed and it took you 2 hours to walk me through and explain what would suit my needs AND my house best.  I trust you guys and appreciate all you have done.